FEWSION™ Data Visualization: FEW-View™
FEWSION™ is building the first complete empirical description of the U.S. food, energy, and water system so that every citizen and policymaker in the U.S. can see where their food, energy, and water come from. The visualization system called FEW-View™ is an interactive map that features an on-boarding process to walk you through how to use the system.
INFEWS-ER
Allied with the FEWSION project, the INFEWS-ER will provide a virtual environment for completing the Food, Energy, and Water (FEW) graduate student experience, thereby facilitating the generation of human capital who can address grand challenges at the nexus of food, energy, and water. The INFEWS-ER will provide educational resources (ER) targeting innovations at the nexus of FEW by combining the fundamental sciences of food, energy, and water with the skills and knowledge of interdisciplinary problem solving and the latest computational modeling and analysis tools and data.
A Graduate Textbook "The Food-Energy-Water Nexus."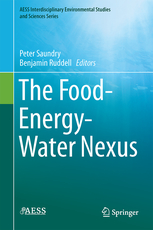 Editors: Saundry, Peter, Ruddell, Benjamin
Released Fall 2019
URL: https://www.springer.com/gp/book/9783030299132
This introductory college textbook surveys the complete Food-Energy-Water Nexus. Written for the disciplinary graduate student (or upperclassman) seeking breadth and exposure to interdisciplinary applications in this space. The text frames the conversation, introduces key tools, discusses human dimensions of the problem, provides case studies, and surveys emerging research opportunities. Each chapter introduces key terminology, leading institutions, highly used datasets, and essential readings.
Coming Soon: A Participatory Curriculum "The FEWSION for Community Resilience Process", expected for Fall 2019.
The FEWSION for Community Resilience Network (F4R™) offers this participatory process and curriculum that is ideal for college courses on Food Energy and Water systems and also for community organizations with a mission to improve their communities' resilience through evidence-based conversations. Training on leading the process is offered for aspiring instructors and local coordinators during an annual workshop held in Flagstaff at Northern Arizona University's Center for Science Teaching and Learning. The F4R™ project office provides support for local coordinators who are offering the curriculum and process to their local community.