Where does my food come from, and how much water and energy went into its production? How long will we have water if our power fails? How will a hurricane in Texas increase the cost of gasoline in my city? How much will a drought in California impact my food choices?
These are the kinds of questions that citizen science project FEWSION (Food-Energy-Water Fusion) For Community Resilience (F4R™) is setting out to answer for rural communities and small cities throughout the United States. The project is led by NAU's Center for Science Teaching and Learning (CSTL) and School of Informatics, Computing, and Cyber Systems (SICCS), and it is currently sponsored by the National Science Foundation.
What has F4R™ already done?
Last year, the project started its data collection and procedure development with a volunteer group and an NAU graduate class, who also collected publicly-available data for counties throughout the United States. F4R™ only collects data on other countries that show their trade with the U.S., and does not track which part of another country traded resources came from or went to. Even so, F4R™ has already modeled the simplified global impact of disasters in the United States, such as Hurricane Florence. Further information can be found at http://news.nau.edu/fewsion-hurricane-florence/#.XLTtxDBKiUn.
FEW View Launch
A key feature of the FEWSION project, led by Dr. Benjamin Ruddell and Dr. Richard Rushforth is "FEW-View™" which allows you to see where each county in the United States imports its resources from, where it exports them to, and how a disaster in one area may impact another. It currently has a few built-in disaster scenarios, some options for custom disaster scenarios, and options to focus the map on any set of resources and counties you want. The new, upgraded version of FEW-View™ will be released to the public on April 29th, 2019.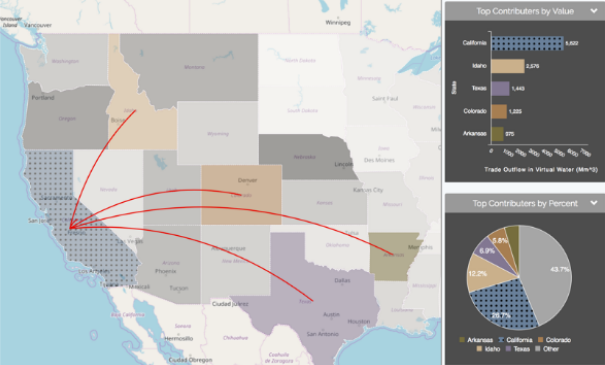 An example screen of FEW-View from https://fewsion.us/few-view/ shows a state-level breakdown of where California's "virtual" water is going. Virtual water is the water that was consumed by the production of something else, such as crops, electricity, or manufactured goods
Where is F4R heading?
This year, more volunteers and students are taking on this work and collecting more detailed data for the Flagstaff area. The data collection and analysis F4R™ will publish will provide some vital information to help communities make informed decisions ranging from the impact of products purchased to environmental legislation and health education efforts. F4R™ is collecting county-level data on where all these resources are coming from and going to. The Flagstaff research will also be used to help streamline the process for other communities to collect and interpret their data.
How can I learn more? F4R™ Spring 2019 Events
F4R is hosting an open house
Saturday, April 27th, from 1:00 to 2:00 P.M.
In the Downtown Flagstaff Public Library Community Room
We will share some preliminary results and take feedback from the community. If you want to learn a bit more about F4R or contribute feedback to areas of focus, then this is a good event for you.
May and June – Stewardship Action Plan Work Sessions:
These sessions are designed to have citizens, experts, owners, operators, and managers linked to food and water system inflows, access, and outflows contribute input and feedback on data, visualizations, and the potential application of products.
Food vulnerability – Food bank partners, public health facilities, and schools are key providers for food vulnerable populations. What are their food flows, how are these organizations linked, and are there ways in which the community could address vulnerabilities and improve resilience for these organizations?
Water System Data, Planning, and Nexus issues – What opportunities exist to help collect or contribute data needed to improve community education and inform planning efforts about water and the ways in which it is linked to community plans and other critical resources?
Fall 2019
Release of the Flagstaff Pilot F4R™ Community Report.
As a citizen science project, F4R™ welcomes all interested members of the Flagstaff community to share any helpful information or skills they have.
If you are interested in attending or participating in any of the F4R™ activities in May and June, then please contact local F4R™ coordinator, Sean Ryan at Sean.Ryan@nau.edu, or follow the project website at https://fewsion.us/f4r.
In the Media