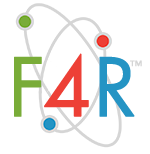 The FEWSION for Community Resilience Network™ (F4R™) is a nonprofit educational citizen science supply chain initiative led out of Northern Arizona University for the purpose of equipping local communities, volunteers, emergency managers, and students to map their local Food Energy and Water (FEW) systems and initiate participatory and evidence-based local conversations about FEW resilience. F4R™ is directed by
Dr. Benjamin Ruddell
 and is an outgrowth of the National Science Foundation's investments in FEWSION and PLACE4FEWS, which piloted a participatory process in Flagstaff, Arizona during 2017-2019.
F4R™ offers training on this participatory process for local coordinators during an annual workshop held in Flagstaff at Northern Arizona University's Center for Science Teaching and Learning, along with the F4R Curriculum™, and real-time support for local coordinators who are offering the curriculum and process to their local community.
F4R™ is currently recruiting ten local coordinator early adopters to join the network and lead a pilot stage offering of the process in their local communities in Fall 2019.
This pilot phase offering will be free of charge, although the expense of travel to the training workshop in Flagstaff must be covered by the local coordinator.
The ideal local coordinator is a professional in emergency management, utility services, planning, supply chain management, or business continuity; or a committed and experienced volunteer; or a college instructor interested in offering a FEW course to upper-division undergraduate students or graduate students.
The coordinator's time commitment is roughly ten hours per week during the Fall and Winter of 2019, plus training. A single cohort takes between one semester and one year to complete the process. The scope of a single cohort is the FEW systems of a single local community such as a rural county; a small city; or a district or neighborhood within a large city. The current process is U.S.-oriented, but participants in other countries are welcome within the F4R Network™.
To inquire about joining the network as a local coordinator, offering a FEW college course, making a donation to support the network, or obtaining the F4R™ Curriculum, please contact the F4R project coordinator Sean Ryan at Sean.Ryan@nau.edu.
Getting Started with F4R™
Contact the F4R Network Office
Identify a Local Coordinator for your community
Choose a start date
Send the Local Coordinator for summer training in Flagstaff to join the network
Recruit a local stakeholder advisory board for the process
Recruit ten citizen scientists (students, volunteers, professionals)
Each citizen scientist obtains the F4R Curriculum™
Run the participatory process
Report back to the F4R™ office with a F4R Community Report™
Iterate with a new cohort roughly every 1-2 years
Local F4R Cohorts